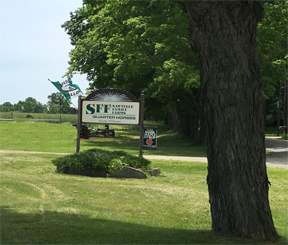 Sawtelle Family Farms Quarter Horses (SFFQH), established in 1995, is a family owned and operated farming and boarding facility located in Central Maine.

Although we are no longer breeding AQHA mares, raising and training show prospects, we are proud of our 20+ years of quality AQHA breeding program which included the bloodlines of: Jet Deck, Hot N Blazing, Chocolua, Willy Be Invited, Green With Invy, Sunsational Shadow.
We are also growers and breeders of grass fed and natural raised/grain fed pigs; located in beautiful Central Maine.

The farming property has been owned by the Sprague/Sawtelle families for four generations. Garry managed the wood-lot portion as a boy with his maternal grandfather, Chet Sprague.
SFFQH and SCC~ Garry and Marge Sawtelle
148 Nokomis Road, Corinna, Maine (Map Us)